Project events
Please click on the calendar for the previous and future events!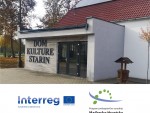 The opening of the culture centre in Drávasztára/Starin, renovated within the DRAVA EVENTS II project will take place on 12 December 2021.
Read more
The partners of RoutesToRoots project organised a workshop on the topic of development of tourism products in the cross-border area, held on 10 December 2021.
Read more