Strategic Projects
Besides the projects selected within the open Call, two more are currently running in the Programme: De-mine HU-HR II, as the Programme's first strategic project, and the Beneficiary Light SME support scheme, as the strategic project within Priority Axis 1.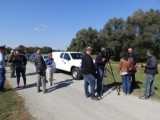 To capitalise on the results of the project, the programming Task Force and later the MC decided to further support de-mining efforts and included the project in the Cooperation Programme
as a strategic project.
The beneficiaries/partners came together once again, this time with the inclusion of Danube-Drava National Park Directorate to de-mine a further section of the mine-suspected border area, remove the unexploded ordnances (UXO) and to rehabilitate the land within the nature-protected area and create preconditions for safe movement through the region.
The project, with the
allocated EU funds reaching 3 mEUR,
started in
June 2016
and is
already well-advanced
with the implementation of activities, including among others,
de-mining activities i
n the border area and restoration of
border stones.
The second strategic project of the Programme, Beneficiary Light (B Light), started with implementation in February 2017 and is the first project aiming at providing direct support to SMEs, with a significant portion of total programme budget allocated to the planned activities. The grant scheme will see 11.7 mEUR being used for joint Hungarian-Croatian business developments.
The project is led by the Croatian Agency for SMEs, Innovations and Investments (HAMAG-BICRO) as the Lead Beneficiary, and managed together with four Croatian border counties' (Međimurska, Koprivničko-križevačka, Virovitičko-podravska and Osječko-baranjska) regional development agencies, as well as two Hungarian entrepreneur's centres from border counties Zala and Somogy and the Baranya County Development Agency as project beneficiaries. 
The project beneficiaries will
support joint projects of Hungarian and Croatian SMEs from the border area
through open
calls for proposals,
first of which is to be
launched as soon as this summer.
More information will soon be available on the
Programme website
, so keep your eyes and browsers open.